There really is nothing that a group of Cloudland Canyon volunteers can not accomplish. But recreating the park experience in a downtown parking space tested theory on Friday, September 16th.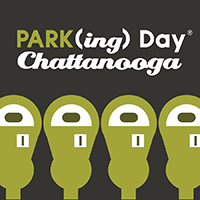 Connie Ward, Dena Abell, and Marcy Williams led a group of volunteers moving trees, signs and even a stuffed bear to downtown Chattanooga to recreate the park experience for PARK(ing) Day Chattanooga. PARK(ing) Day is an annual worldwide event where artists, designers and citizens transform metered parking spots into temporary public parks.
Visitors experienced a short hike on a park trail walking past trees, flowers and a few park animals. Park interpretive ranger, Stephanie Fischer, was there to share information about the park and several volunteers served as hosts for this "wilderness" experience.